Last updated 22/06/2020
The COVID-19 Coronavirus outbreak is ongoing, however, we want to reassure you that we open for business as usual. We continue to be available to you for all your insurance needs.
We have already taken measures to ensure staff who can work remotely are doing so and we have reconfigured our premises to protect those who are working within it.
We have taken measures to ensure staff who can work remotely are continuing to do so and we have reconfigured our office premises to protect those who are working within.
This is, of course, an unprecedented time for everyone but we will continue to apply a flexible and dynamic approach to minimise the impact to the customer service that we pride ourselves on providing, whilst following government advice in respect of our staff.
If we have temporarily reduced staff numbers at any point then you may find that we are unable to answer our telephones as quickly as we usually would so we ask that you please bear with us in that situation, and we will answer your call as soon as we are able.
For non-urgent queries you can also contact us using our Live Chat facility via our website or email us at contactus@businesschoicedirect.co.uk and we will respond as soon as possible.
Government advice around the coronavirus outbreak is available on the following link;
https://www.gov.uk/government/topical-events/coronavirus-covid-19-uk-government-response
One of the measures introduced by the Government is the extension of due dates for MOT tests for vehicles by 3 months. Specific information can be found at this link;
https://www.gov.uk/guidance/coronavirus-covid-19-mots-for-cars-vans-and-motorcycles-due-from-30-march-2020
Advice on Insurance Cover
The Association of British Insurers (ABI) have set up a comprehensive question and answer section on their website for insurance customers. This covers a wide range of insurance types and we would recommend consulting this as a first port of call as it may well answer any queries you may have around what is covered in this situation;
https://www.abi.org.uk/products-and-issues/topics-and-issues/coronavirus-qa/
Government advice around the coronavirus outbreak is available on the following link;
https://www.gov.uk/government/topical-events/coronavirus-covid-19-uk-government-response
In addition to this, the Financial Conduct Authority (FCA) have set out their expectation of what assistance insurers and intermediaries should provide to customers who may be experiencing financial difficulties as a result of the effects of the pandemic.
The aim of this is to make sure that customers are treated fairly and receive the necessary assistance to ensure that they can remain correctly insured during this period. It is, of course, important to ensure customers are not left in a position of vulnerability due to being uninsured.
If you are having any financial difficulties then please do contact us. Further details are provided in the following link;
https://www.fca.org.uk/news/press-releases/fca-confirms-measures-insurance-customers-coronavirus
Additional Advice for Business Customers
Business Interruption Cover
The government have made it clear that they didn't expect many businesses to have the Business Interruption cover in place to cover an event such as this, and that these measures are designed to help support all businesses through these challenging times. Further information can be found here: https://www.gov.uk/business-support-helpline.
The Association of British Insurers (ABI) have made further comments following the statement made by the Chancellor of the Exchequer on Tuesday 17th March 2020. They have stated;
"The Chancellor's statement today is consistent with our statement this morning where we said in the event businesses have the right cover, this type of notification could help make a claim. But, as the Chancellor acknowledged, the vast majority won't have purchased extended cover and this remains unchanged."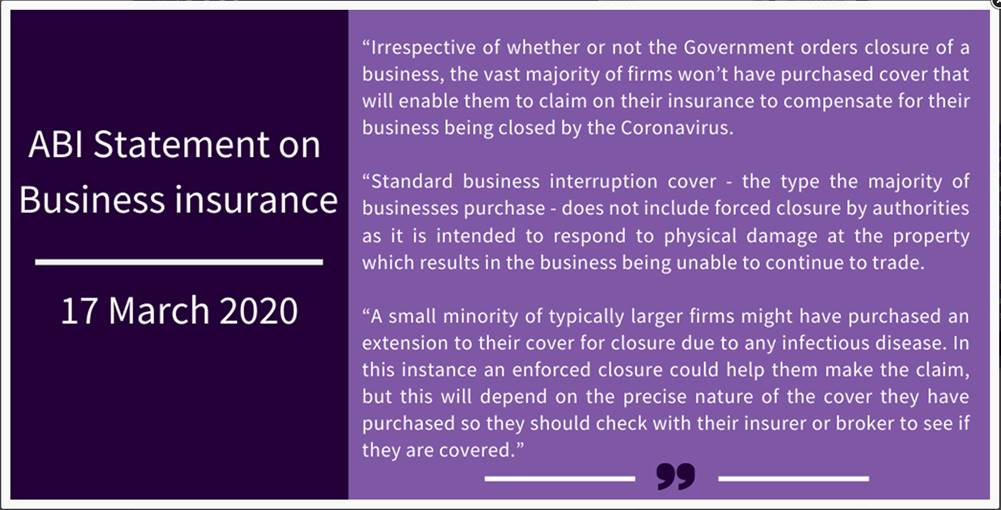 We recommend checking your individual policy wordings to check if you have an extension that may assist in this situation. As stated above, it is expected that very few policies will cover this scenario which is why the government has introduced the raft of measures that it has to assist businesses in these difficult times.
Advice on Government Support for Businesses
The coronavirus (COVID-19) situation is evolving rapidly and the government have confirmed they will be taking measures to assist businesses in this difficult time.
The government are giving support to the following areas:
Support for sick pay
Support for businesses who pay business rates
Support for businesses who pay little or no business rates
Support with Coronavirus business interruption loan scheme
Support for businesses paying tax
Support for self-employed through the Self-employment Income Support Scheme enabling those who meet the criteria to claim a taxable grant worth 80% of their trading profits up to a maximum of £2,500 per month for 3 months. This was initially from May 2020 but has been extended with the second round of applications due in August 2020.
The Coronavirus Job Retention Scheme which applies to employees who have been asked to stop working, but who are being kept on the payroll, otherwise described as 'furloughed workers'. HMRC will reimburse 80% of their wages, up to £2,500 per month. This scheme has been extended to 31 October 2020. The contribution levels will drop in September and October as detailed below;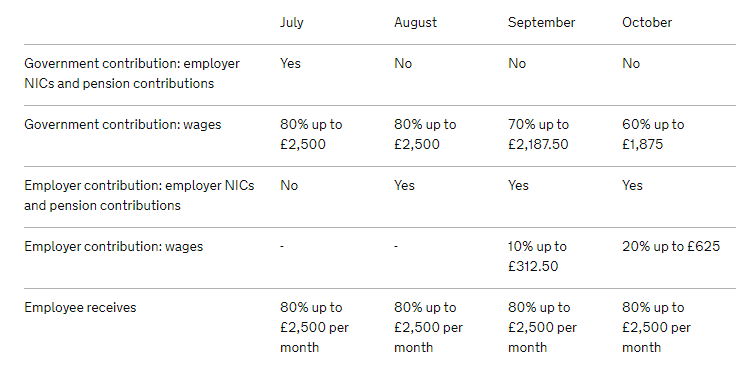 Where can you find out further information?
The government have published detailed information and guidance online and we would recommend that you keep yourselves up to date with this. You can access the information using this link: https://www.gov.uk/government/publications/guidance-to-employers-and-businesses-about-covid-19/covid-19-support-for-businesses
For self-employed workers the independent trade bodies, the Association of Independent Professionals and the Self Employed (IPSE) and National Federation of Self Employed & Small Businesses (FSB), have extensive information and advice on their websites and we would recommend following these links for updates from those bodies;
https://www.ipse.co.uk/ipse-news/news-listing/coronavirus-ipse-activity-and-advice-freelancers.html
https://www.fsb.org.uk/campaign/covid19.html
The IPSE website includes information on;
Government Support for the Self-Employed
Advice for Freelancers and Clients
Business and Financial Support Advice
Links to Banks' Coronavirus Pages
Advice on Health and Client Relations
The FSB website includes latest news and advice on the following subjects;
Completing Application for Government Grants and Cashflow Issues
Business Premises and Trading
Business Rates
Paying Tax
Statutory Sick Pay and Employment Allowance
If you are a business customer affected by the current situation these websites are your best source of information and up to date advice.