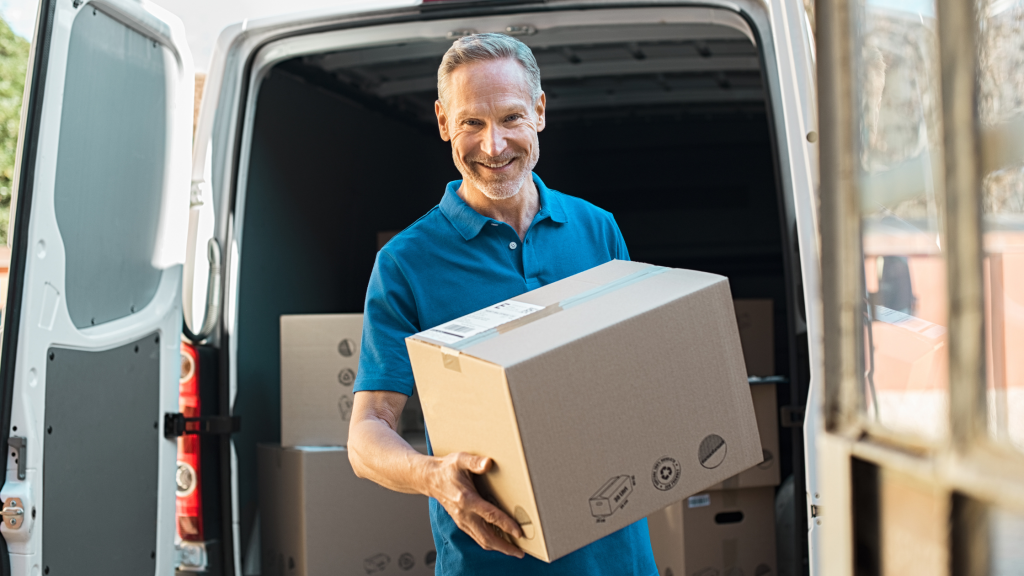 As summer approaches and temperatures rise, so does the volume of online purchases. The promise of outdoor activities signals the start of an influx of deliveries from garden kit to takeaways, so it's not surprising that many drivers are contemplating the opportunities offered by becoming a courier.
This is a busy time for us at Business Choice Direct as insurance brokers, which is why it seems like the ideal time to provide some helpful advice. The first few weeks in any new role can be daunting and fraught with confusion. Hence, Business Choice Direct wanted to provide you with some things to consider to help you survive those first few weeks (and more) as a new courier driver.
Things to bear in mind as a new courier
The first thing at the top of your action list should be to sort out your insurance. You will need Hire & Reward cover if you are using your vehicle for work. Your personal car insurance is unlikely to be adequate or valid.
If you use your car to transport something for money its seen as a commercial endeavour. Many companies that contract drivers will offer some level of insurance coverage, but you need to check that it is comprehensive and what the policy covers. Often it is limited and only offers a lumpsum pay out, so you may need to plug the gaps in cover.
Hire & Reward cover for drivers varies. Insurance cover for someone handling small packages or food may be inadequate for drivers that have to handle hazardous items. The type of vehicle you have will also have an impact upon your insurance needs, since large vans will require different cover to small cars.
What are you covered for? Make sure you know what the signs on the boxes mean as they may refer to hazardous or specialist materials. If your insurance does not allow you to carry it, you cannot accept the delivery.
What type of work will you be doing? Will it be multidrop or long distance? Will you be delivering to residential areas or businesses? This will have an impact on your insurance needs.
Dress for your day- multidrop courier work is a very physical job and will require cool, durable, and comfortable clothing as you will be moving around a great deal and carrying items.
Make time for breaks, so plan your route accordingly and take plenty of water with you. If you are likely to be out for the whole day, why not take a packed lunch with you so you eat a healthy diet that can also save you money, rather than relying on expensive and fattening fast foods.
Research the company and the contracts they are accepting. If doing multidrop, find out where the depot and working area are.
Learn where your depot is ahead of time and turn up early. A lot of depots will allow drivers access in waves. The earlier you get there the earlier you can be on the road and working.
Get to know the van and area early. If you are not used to driving bigger vehicles it can be difficult to judge spacing and parking. Spend some time driving the van round an area you know to get a feel for the size and handling of the vehicle.
Similarly, if you are operating in an unfamiliar area, try and visit it in your usual vehicle, make notes of places that could be difficult to navigate or particularly confusing road signage.
Lost or running late? Try to stay calm and not to get frustrated. If tensions start to rise, it is important not to carry this over into your driving as it could lead to accidents or damage to the load, which could lead to you being liable… that's where insurance comes in.
We've got you covered.
As Commercial Lines Broker of the Year at the 2021 National Insurance Awards, you can be confident, we understand the demands of this sector. As industry experts, all of our BCD courier brokers have a vast understanding of the demands that couriers face, so we are here to offer jargon-free help and advice. Insurance is what we do best!
We can offer all types of cover, no matter what type of work you are planning to undertake.
Call us to ensure that you have appropriate Courier Insurance, Liability and Goods- in -Transit Insurance in place, before heading out on the road.
Tap into our expertise
Our experienced team can provide you with useful insights into the kind of work you will be doing. We insure all kinds of couriers and offer a hassle free, quick and competitive quote service.
Furthermore, we can advise on what additional products you may need as a new courier, that will help protect you further.
Get a quote now- it's quick, it's simple and it's really cost effective
Get a free competitive quotation from dedicated courier brokers. Just click here to complete a simple online quote form or call us on 0344 776 5305.
Feel free to ask us about anything you are unsure of.
Business Choice Direct Insurance Services Limited, Registered in England and Wales (No: 10301653). Registered office: Affinity House, Bindon Road, Taunton, Somerset TA2 6AA. Business Choice Direct Insurance Services Limited are authorised and regulated by the Financial Conduct Authority FRN: 927512. Calls may be recorded for use in quality management, training and support. Business Choice Direct Insurance Services Limited is part of the Lloyd & Whyte Group.