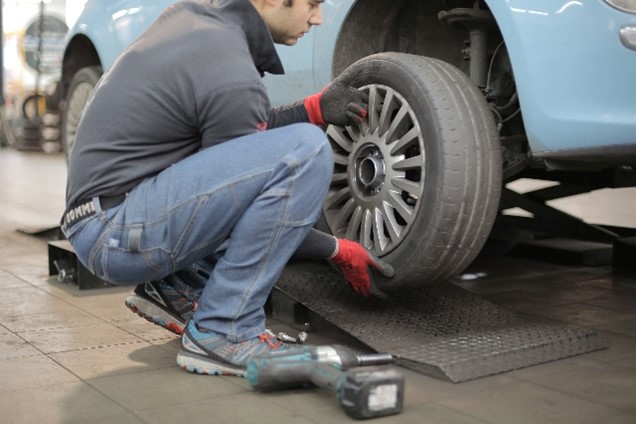 If your tyres don't stop you, what will?
That is the message being promoted during tyre safety month this October. Tyre safety is of vital importance each and every day, and this is specifically highlighted during the month of October for the Tyre Safety Month campaign run by tyresafe.org.
According to statistics from Tyre Safe, nearly 1,000 drivers are seriously injured or killed in accidents annually due to tyre-related issues1. This figure is likely to rise as the economic crisis leads drivers to economise and hesitate to fit new tyres or opt for re-treads (part worn) tyres, which research has shown to be 93% non-compliant
Tyre safety
Our vehicle's tyres are the only thing connecting your car or van to the road. Not only are there safety concerns involved, but checking your tyres are in good condition has implications around optimum fuel use. Keeping your tyres at the right pressure, especially not under inflated, will help ensure your vehicle uses less energy and, therefore, less fuel. Using the correct pressure also improves the longevity of your tyres, so checking your tyres are in good repair and are correctly inflated makes economic sense too.
Tyres have to cope with braking, cornering and accelerating, which puts a great deal of pressure on their performance, which becomes especially important when the roads are wet, slippery or covered in ice or snow. They can be slightly underinflated for icy roads.
Key things to check are:
Check tyre pressure- settings will be in your handbook
Check for wear and tear, stones and loose objects
Bulges could be a sign of internal damage
Check the tread depth (1.6mm minimum)
The tyre tread pattern is designed to expel water between the tyre and the road surface, so if it is worn out, it reduces grip and increases stopping distances, whilst increasing the chances of aquaplaning. For normal car or van tyres, according to manufacturer's Michelin, an average tyre should last around 25,000 miles.
A 15 min check could save lives
Every driver should undertake vehicle checks, not just their tyres, whether or not you drive for a living. Walkaround checks should only take you around 15 min tops. They are important to ensure that your vehicle is safe to be travelling, and that you'll be safe as the driver. Even if it's been on the road with another driver all day, if you take over, it's your responsibility while you're driving it, so it's recommended that you do your own checks again.
Everyday checks should include:
Tyre pressure and condition
Brakes
Steering
Headlights
Hazard lights and indicators
Remember safe tyres save lives
Vehicle height and width
The height of the trailer, its load and equipment (which can change)
This bit could almost be a separate quick blog?
Bridge strikes by high vehicles
The latter two points come about due to a regulation issued by the DVSA introduced because the risk of bridge strikes (colliding with a bridge) has increased over recent years and there are now, on average, five bridge strikes each day. These can cause death, or serious injury to the driver and other people, but it also costs around £23m a year to repair bridges after they've been hit.
Do not rely on the information on the headboard as coupler heights can vary. Report any discrepancy between the measured height and that shown on the headboard to your Transport Manager. If the overall travelling height is more than 3m it must be displayed in the cab.
If you are driving an HGV, don't rely on a system designed for cars as these will not avoid low bridges. Make sure that you use a HGV specific satellite navigation system.
Know your route and obey traffic signs.
Accidents happen
If you are unfortunate enough to be involved in an accident, however it was caused, you'll want to be reassured that you have got good insurance cover. That is where BCD come in. It's worth checking amongst everything else, that you have the optimum cover to meet your specific requirements.
We know that insurance may not be high on your check list, which is why talking to our experts at BCD, who understand your business, helps to make it a fast, hassle-free process. Not only that, but our policies are comprehensive and competitive too. We can even help you with any claims. You're in good hands!
Talk to us now for peace of mind
We know that insurance may not be high on your checklist but talking to BCD makes sense, contact us today on 0344 776 5305.
1 https://www.iamroadsmart.com/media-policy/media-enquiries/news-details/2022/03/23/cost-of-living-crisis-could-lead-to-rise-in-use-of-death-trap-tyres